SLB440 series now in hygienic design with IP69 degree of protection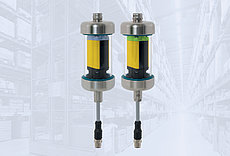 Schmersal has developed a new series of safety light barriers that are suitable for hygiene-sensitive applications in the packaging and food-processing industries, such as milk and meat processing. With a diameter of 62 mm and a height of 115 mm, the single-beam light barriers in the SLB series are extremely compact. This makes them ideal for thermoforming machinery for food packaging, for use on cutting equipment or on other machinery with narrow installation spaces.
SLB440 light barriers with IP69 degree of protection
SLB440 light barriers have been designed along the lines of the SLC/SLG440 IP69 safety light curtains and grids, which have been widely used in the food-processing and packaging industries for years. The new single-beam light barriers have been designed to cope with the high levels of stress placed upon them by the cleaning processes that are commonplace to these industries.
Thanks to a sophisticated, detailed design, the SLB440 series achieves IP69 degree of protection and is thus protected against ingress of water during close-range high-pressure and high-temperature spray downs. This means that the external and internal seals on this contactless active protective device (AOPD) meet very strict requirements and are able to withstand frequent cleaning with alkali solutions, foam, hot steam or high-pressure jets.
Stainless steel locking caps – PC safety tubes
The new AOPD product line has also been created based on the principles of hygienic design. The locking caps on the SLB440 are made of stainless steel (V4A) as are the cable inlet, pressure equalisation diaphragm and fastening parts. Made of polycarbonate (PC), the transparent protective tubes not only offer high resistance to cleaning agents, but also withstand strong mechanical loads. If spray lances should accidentally strike the SLC440 IP69's enclosure during pressure washing in food production, the safety and protection function will continue to work thanks to the robust protective tubes. The materials thus ensure higher process reliability as well as a lengthy safety light barrier service life. The independent testing laboratory Ecolab has also verified the high resistance of the materials used in these components.
Integrated evaluation
The AOPD series features integrated evaluation with two safety outputs that are connected directly to the higher-level control system. Additional features of this AOPD  series are the integrated setup aid and straightforward connection option with M12 connector (4-pole or 5-pole). The SLB440 light barrier achieves Performance Level PLe, type 4.
Visit Schmersal at Hannover Messe between 17 and 21 April 2023: Stand D09, Hall 09